KOMATSU HYDRAULIC BREAKERS
The Komatsu JTHB hydraulic breaker range delivers exceptional impact energy, long lifetimes and low operating costs. What's more, they minimise operator fatigue and environmental impact. These unique benefits are all due to an innovative blend of a simple yet efficient design and advanced "accumulator-free' technology.
Whether you're tearing out a reinforced concrete abutment, scaling a tunnel, or running a pedestal-boom at the quarry, Komatsu hydraulic breakers provide superior impact energy for exceptional performance in a variety of rock and concrete demolition applications. The high impact power of the JTHB Series breakers is delivered through a combination of hydraulic and nitrogen gas energy, with no need for an accumulator.
Benefits:
Underwater use
Auto grease system
Environmentally friendly
High impact energy for high performance and productivity
Fewer parts for reduced operating costs and less maintenance
Versatile with any carrier
Why are Breakers important?
Breakers can save you money. The operation of a breaker is far more cost efficient than hiring manpower to do an equivalent job – doing anything by hand takes a lot of manpower.
Cuts down health & safety risks. Less manpower should mean less risks – a breaker in the hands of an experienced operator will safeguard a working area and reduce feet-on-the-ground in working areas.
Less noise pollution. Contrary to popular belief, a breaker does omit much noise.  Komatsu breakers include a technology to dampen shockwaves to make working in urban areas more agreeable and less liable for complaints.
Shortens job timescales. A highly efficient hydraulic breaker will do in hours, what manual labour would take weeks to do.  A breaker would also break debris down into smaller sizes for easier & cheaper transport and disposal.
Favourable fuel consumption. Hydraulic breakers won't drain your resources when it comes to fuel when compared to other machinery that can do the same job.
Komatsu B-Series Hydraulic Breaker
The Komatsu B-series breaker are straightforward, reliable, and powerful attachments designed to provide exceptional impact energy and peace of mind.  Whether you're tearing out concrete, scaling a tunnel or running a pedestal boom at the quarry – Komatsu B-series hydraulic breakers provide superior breaking force in any application.
The simplicity of the design combined with high-quality components result in a breaker that will work on any machine, in any condition, for many years.  With up to 30% less components, these breakers require a little maintenance, are easy to service and have market-leading reliability.
All-important noise reduction for working in urban areas. The fully suspended power cell dampens shockwave transmissions, increasing operator comfort, reducing noise, and protecting the carrier.
Keep operating and maintenance costs down. The breaker utilises 30% fewer parts than its competitors – every single one is designed to strict Komatsu's strict engineering and quality standards.  Fewer parts mean less maintenance and less parts needing replacement.  Repairs are straightforward and lessens prospective downtime risks.
Blank firing protection. Piston movement is stopped when insufficient pressure is applied on the tool.  This prevents damage to the tie rods, retaining pins and tools.
Avoid breakages and unnecessary tool replacement. Komatsu Genuine tools are much more than just machined pieces of steel.  The best alloys will guarantee a long wear life.  Delicate heat treatment will result in a tougher product.  Careful and precise machining is required to ensure the piston impacts the tool at the right moment for maximum energy transfer.
Additional investment protection. Optional automatic lubrication provides additional greasing, extending the lifetime of the bushings and tool.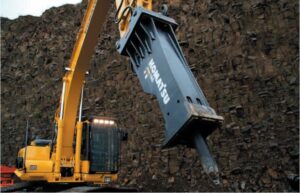 Komatsu H-Series Hydraulic Breaker
Designed for a compact and large machine range and based on accumulator-type technology, the H-series breaker delivers consistent impact power in any environment, on any machine.   Innovative features and clever design improve production while lowering the total cost of ownership significantly.
COMPACT range: Eleven breakers, from 65 to 1.190kg cover the utility and midi excavator market.  Our range of breakers are designed with a compact and light body, improving machine stability, operator visibility and comfort.  Within the breaker, the set-up is simple and reliable – fewer parts for fewer risks: no tie-rods but with high quality genuine component parts, automatic pressure regulation, high back pressure tolerance and blank firing protection.
LARGE range: Four heavy-duty breakers designed to cut a swathe through any material in its path.  Suitable for carriers between 20 to 80-tonne, our range of breakers will automatically adjust their working frequency depending on the hardness of the material.
If you're looking for additional features:
A heavy-duty housing for added protection
Automatic greasing
Blank firing protection
Swivel couplings to extend the lifetime of the hoses
Field-replaceable bushings
Adjustable pressure regulation
Integrated dust extraction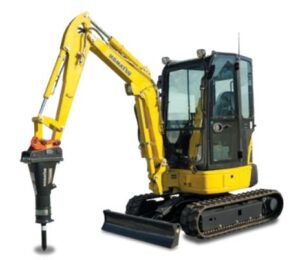 Komatsu V-Series Hydraulic Breaker
Komatsu V-Series breakers are designed for maximum productivity in any application, whilst lowering cost per ton.  They are at home in any application, for demolition, mass excavation or secondary breaking.
The breakers fully modulate their impact force and frequency to match the application's requirements, with no wasted energy and much higher operating efficiency.  Greater positive impact on the material, on the pocket and the environment.  Sim
Like the H-series breaker, many features carry over to the V-series including automatic greasing, advanced blank firing protection, swivel hose couplings and a heavy-duty housing are standard.  In addition, patented bushing protects the tool and retaining pins by absorbing any torque on the tool.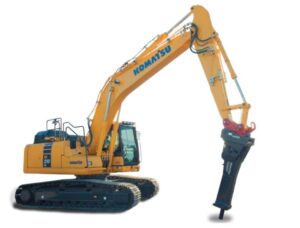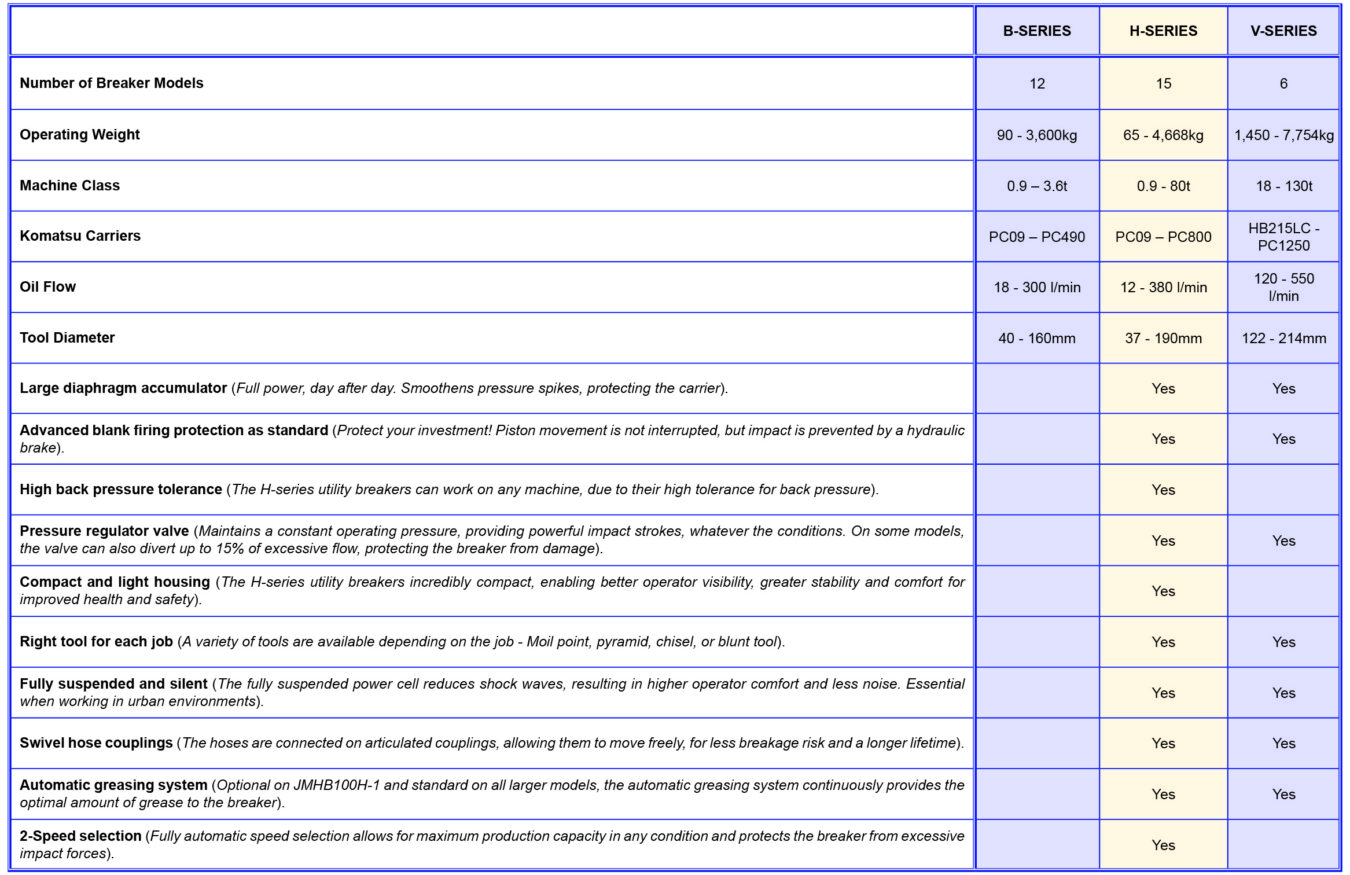 With a range of 15 breakers from 90 to 4550 kg for machines ranging from 0.7 to 70 tonnes (and not just Komatsu's brand), you're guaranteed to find the right tool for the job.
SUBSCRIBE TO OUR NEWSLETTER