We'll provide you with a range of finance options designed to help you enjoy the benefits of owning Komatsu. With competitive rates and flexible solutions we'll help take your business forward
MK Finance can provide hire purchase, operating lease, finance lease, competitive pricing, revolving credit lines and a dedicated in-house team to tailor a package to suit any requirement
Knowing about finance as well as machines allows us to offer competitive residual values, or balloon repayment profiles where suitable, to give you the lowest repayments possible to suit your business model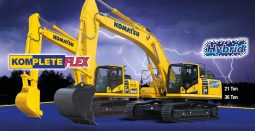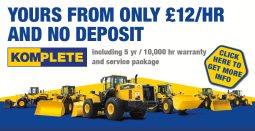 Great finance deals on two class-leading Hybrid machines
We're offering some excellent finance deals on two of our class-leading Hybrid machines courtesy of Marubeni-Komatsu Finance.
Read more
Class-leading machines from only £12/hr and no deposit!
Get an all-inclusive machine lease on a our range of Wheel Loaders AND 5 a year/10,000 warranty and Service package.
Read more
FINANCE GUIDE
At MK Finance we understand that each business is different; that's why we have an array of different tools we can use to tailor a finance package to match your specific requirements.
A hire purchase agreements provides a fixed monthly repayment at a fixed interest rate over a predetermined time period.  At the end of the payment term you will own the machine.
An operating lease provides low fixed monthly payments by using a predicted residual value of the machine at the end of the term.  You do not own the machine at the end of the term.  When combined with a service contract and extended warranty agreement it offers excellent value and peace of mind.
A finance lease allows you to offset the cost of your instalments against taxable profits. Although you don't own the machine at the end of the term you can continue to use it after the primary period, in exchange for a nominal annual secondary period rental.