When making a capital purchase, it can be a real challenge to know which finance product will be of relevance and benefit to your business. Changes in the treatment of finance agreements from an accounting perspective mean that you need to keep up to date with the finance options that will spread the cost of your acquisition whilst helping to reduce your tax bill. Give us the opportunity to tell you about our products and how flexible we can be when considering your next equipment purchase.
We make sure Marubeni-Komatsu customers have access to state-of-the-art finance options anywhere in the UK. We can provide hire purchase, operating lease and finance lease agreements with competitive pricing and annually revolving credit lines to make your buying experience that much quicker and easier.
Our team have in excess of 70 years' experience in the construction finance market. We understand your business, the product and know how to design finance solutions to make the purchase of capital equipment fast and hassle-free. Our national field force are in touch with local needs and conditions and bring you state of the art finance options at the point of sale. You will always be able to get in touch with someone who can quickly calculate a range of options over different periods from which you can make your selection.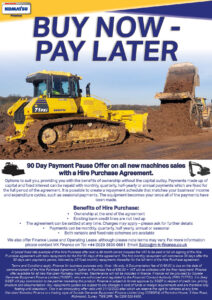 FINANCE GUIDE
We understand that each business is different; that's why we have an array of different tools we can use to tailor a finance package to match your specific requirements.
HIRE PURCHASE
A simple finance solution giving you the benefits of ownership without the capital outlay. Payments, made up of capital and fixed interest, may be repaid by monthly, quarterly, half-yearly or annual payments and are fixed for the full period of the agreement. It is possible to design a bespoke repayment pattern that matches your business' income and expenditure cycles, such as seasonal payments. The equipment becomes yours once all the payments have been made.
The benefits of Hire Purchase are:
• The equipment is owned at the end of the agreement
• Existing bank credit lines are not tied up
• The agreement can be settled at any time
• Rentals can be monthly, quarterly, semi-annual, annual or seasonal
• There are both fixed and variable rate schemes available
OPERATING LEASE
This is a lease with fixed instalments reflecting a predicted future residual value which remains unpaid by you. The residual risk is taken by Marubeni Komatsu Finance who recover the machine at the end of the period and sell it at the highest possible market value in order to realise this unpaid amount. This transfer of risk may allow the asset to be treated as off-balance-sheet and rentals are offset against taxable profits. VAT is payable with each rental and can be claimed back within the VAT period.
The benefits of an Operating Lease are:
• Rentals are usually lower than a standard hire purchase or finance lease
• Earnings to assets and gearing ratios are improved
• Total budgetary control as all costs can be built in and fixed for the term
FINANCE LEASE
Offset the lease of your equipment against your taxable profits when you enter a finance lease for a fixed period. VAT is collected on each rental and you can budget for fixed monthly payments. At the end of the agreement you can either continue to use the equipment or sell it for an agreed amount whilst keeping the majority of sale proceeds. An initial deposit (or advance rentals) are paid leaving the balance to be spread over an agreed term, typically 1-5 years.
The benefits of a finance lease are:
• The initial VAT payment is lower than that of hire purchase or a cash purchase
• Existing bank credit lines are not tied up
• Rentals can be monthly, quarterly, semi-annual, annual or seasonal
• Fixed rentals for accurate budgets.
Marubeni-Komatsu Finance is a trading style of Societe Generale Equipment Finance Limited (SGEF) (reg. 03596854) of Parkshot House, 5 Kew Road, Richmond, Surrey, TW9 2PR. Any quotation above or attached are indicative and are subject to formal approval by SGEF of the credit risk, pricing, structure and documentation plus satisfactory KYC/UBO checks. Any rentals/present value/ interest rates quoted are subject to any changes in cost of funds or margin requirements and is therefore floating until drawdown. Any Commission payable will be subject to SGEFs approval and should comply with SGEFs commission payment policy.
Societe Generale Equipment Finance Limited is authorised and regulated by the Financial Conduct Authority (Reference number: 717751).
Societe Generale Equipment Finance Limited is a member of the Finance & Leasing Association (FLA) and uses the FLA Code of Business.
Societe Generale Equipment Finance Limited – Registered in England – Company No: 0359 6854