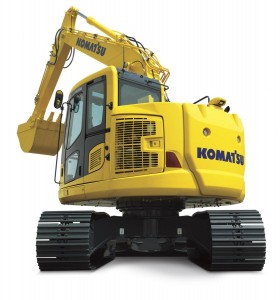 This privacy policy explains how Marubeni-Komatsu collects, uses and protects any data and personal information that you give when you use this website.
Marubeni-Komatsu is committed to ensuring that your privacy is protected. Should we ask you to provide certain information by which you can be identified when using this website, then you can be assured that it will only be used in accordance with this privacy policy. By accessing and using the Marubeni-Komatsu website, you're agreeing to the terms of this use of cookies policy and our privacy policy.
Use of the Marubeni-Komatsu website
If you are a user with public access, the Marubeni-Komatsu website does not store or capture personal information, but merely logs a number called your IP address which is automatically recognised by the system (see data collected below). Only personal information that you have given permission to Marubeni-Komatsu to collect, say via an enquiry form will be recorded.
Changes to this privacy policy
We will continually review and update this privacy notice to reflect changes in our services, as well as to comply with changes in the law. When such changes occur, we will revise the 'last updated' date at the bottom of this page. You should check this page from time to time to ensure that you are happy with any changes.
Data collected
In common with most websites, this site automatically logs certain information about every request made to it and records from which IP address the request was made*. This information is used for system administration, for bug tracking, plus analysing and producing usage statistics. The logged information may be kept indefinitely. In conjunction with third parties we may collect information about your IP address. This is mainly statistical and we'll never be able to identify individuals from it.
Relevant subsets of this data may be passed to computer security teams as part of investigations of computer misuse involving this site or other computing equipment at Marubeni-Komatsu. Data may be passed to the administrators of other computer systems to enable them to investigate problems over access to this site or of system mis-configuration. Data may also be passed to third parties working with Marubeni-Komatsu who provide web services to us. In these cases it will be covered by appropriate non-disclosure agreements. Otherwise the logged information is not passed to any third party unless this is required by law. Summary statistics are extracted from this data and some of these may be made publicly available, but those that are do not include information from which individuals could be identified.
*You should appreciate that a log is an electronic record of what a server sees, not necessarily what was initially sent. If a request is sent via a proxy server the log file will show the proxy's address, rather than the original senders IP address.
Access to personal data
For the purpose of the UK Data Protection Act 1998, the 'Data Controller' for the processing of data collected by this site is Marubeni-Komatsu, and the point of contact for subject access requests is Duncan Adams.
Links to other sites
This site may contain links to other websites on the internet that are owned and operated by third parties. The information practices of those websites are not covered by this privacy policy, but by their own terms of use and privacy policies, which you should read carefully. These other sites may send their own cookies to users to collect data or solicit personal information. This privacy policy only applies to the www.marubeni-komatsu.co.uk website. It is not intended to apply to other websites, which may have different privacy policies.
Collecting your personal information
We will ask you when we need information that personally identifies you (personal information) or allows us to contact you. Generally, this information is requested when you are asked to complete an enquiry form, online feedback form or make an online payment.
Use of your personal information
We use your personal information for these specific purposes:
Submitting an enquiry
Submitting an online form
Registering for a newsletter
To make an online payment
Control & Security of your personal information
Marubeni-Komatsu is committed to ensuring that your information is secure. In order to prevent unauthorised access or disclosure we have put in place suitable physical, electronic and managerial procedures to safeguard and secure the information we collect online.
Your personal information is never shared with third parties outside Marubeni-Komatsu without your permission, other than for the limited exceptions listed below.
Disclosure of your information
On rare occasions we may need to pass your information to other people and organisations that provide the website service. These providers are obliged to keep your details securely, and use them only to fulfil our request.
We may disclose your personal information to third parties only if:
A technical issue arises whereby your data is required by a third party technician to help trace and then resolve the fault
Marubeni-Komatsu ever ends up being taken over by a 3rd party, your data will be one of the things they'll acquire
At no time will your information be passed onto organisations external to Marubeni-Komatsu Ltd, for marketing or sales purposes or for any commercial use without your prior express consent.
Access to your personal information
You may request details of personal information which we hold about you under the Data Protection Act 1998. A small fee will be payable. If you would like a copy of the information held by us about you please write to Marubeni-Komatsu Ltd, Padgets Lane, Redditch, Worcestershire B98 0RT.
If you believe that any information we are holding on you is incorrect or incomplete, please write to us at the above address or email us as at info@mkl.co.uk as soon as possible, We will promptly correct any information found to be incorrect.
Contact
We invite you to contact us if you have questions about our privacy policy. You may contact us by email at info@mkl.co.uk.
Privacy Policy last updated: 24 September 2013