KOMTRAX™ is a machine monitoring and tracking system exclusive to Komatsu. It works by using a network of global positioning satellites (GPS) to tell you where your machine is and enables you to monitor its health. It also gives you your machines actual working times, service meter readings, idling time and much more.
KOMTRAX lets you manage your complete Komatsu machine fleet in one place. Use KOMTRAX to monitor and organise you fleet and even export data into your management and office applications to analyse the data further to ensure your machines are working efficiently.
The information and reports that KOMTRAX™ creates are accessed via an app or online. In addition to using the KOMTRAX web site from your PC or laptop you can access KOMTRAX on the move too. Use the link created for smartphone users to have all your essential machine data at your fingertips.
The information and reports that KOMTRAX™ creates are accessed via an app or online. These reports help you to answer three important questions:
Daily report
The daily report shows your machine's location and working status information from the previous day. It also shows fuel levels and water temperature graphs.
Annual working hour record
This report allows you to monitor how the machine is being used. Various charts display engine running hours, actual working hours and the ATT hours show how long the attachment circuit was used.
Monthly actual working record
You can view in graph format working hours versus actual working hours and also attachment working hours. Engine idling time will become apparent, therefore, actions can be taken to avoid unnecessary fuel consumption.
Working record
Operational information, supplied on a daily basis tells you how productive your machines and operators are. The easy to follow bar chart shows engine on time, work time and attachment operation time. This function can also help to eliminate unauthorised use of your machines.
Machine location
KOMTRAX™ uses a network of global positioning satellites (GPS) to locate your machine 24 hours a day. The location can be monitored using the map or latitude and longitude references. The map function can show you details of down to 100m. Street names for machine location can be obtained by using the zoom function.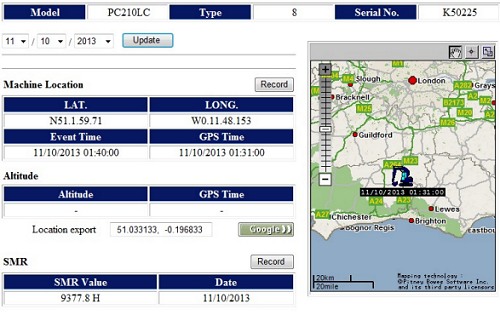 Fleet location
The map function can be used to organise a complete fleet of machines and allows you to view all of your machines at one time. It is even possible to see machines in different countries. The fleet map also has functions which allows you to see which machines are not working, which machines need attention or which machines are travelling.
Remote engine lock facility
A number of engine lock and un-lock capabilities assure that your machines are only operated during designated days and times. This can be operated from KOMTRAX™ (as long as a digital certificate has been first provided by Komatsu) and on some machines on the monitor panel. From KOMTRAX™ it is also possible to monitor when the password function is being used.
Geo-fence
Operation areas (Geofences) can be created to indicate where your machines are expected to operate. If a positioning report is received that is outside of your defined area, a notification is generated and displayed on-line.
Travel alarm
KOMTRAX™ uses the GPS system to check the actual machine position. If it exceeds its limits, a notification will be generated and displayed on line to show that the machine has moved beyond these limits. The map function will then display each position of the machine to enable you to track it.
Caution reports
Through KOMTRAX™ it is possible to see what type of caution has occurred, the hour when the caution occurred and also the duration of the caution.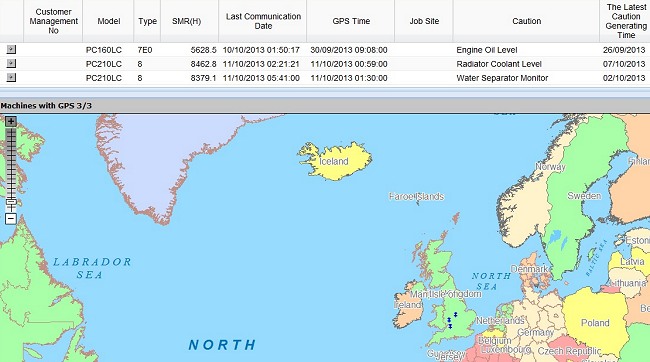 Maintenance
In order to increase machine productivity and schedule maintenance, alerts indicate when you need to change replacement items like filters and oil. In KOMTRAX™ you will then be able to view the complete maintenance history of the machine.
Monthly status summary
Knowing hydraulic pressure levels and the loads of your machines can help you monitor your machines working conditions. It works as an early warning sign for potential overload or under load situations and can tell you whether you are using the correct size machine for the task.
Fuel consumption charts
From KOMTRAX™ you will be able to see how much fuel the machine consumes each day, from data taken from the engine controller. This data can then be used to schedule fuel deliveries and reduce fuel costs. When the data is used in conjunction with the monthly actual working record, machine efficiency can be quickly calculated and cost saving improvements implemented.
Monthly fuel consumption
KOMTRAX™ will also summarise the daily fuel consumption into a monthly report. This report can then be used to help control the fuel costs of the machine and help you budget for future projects.