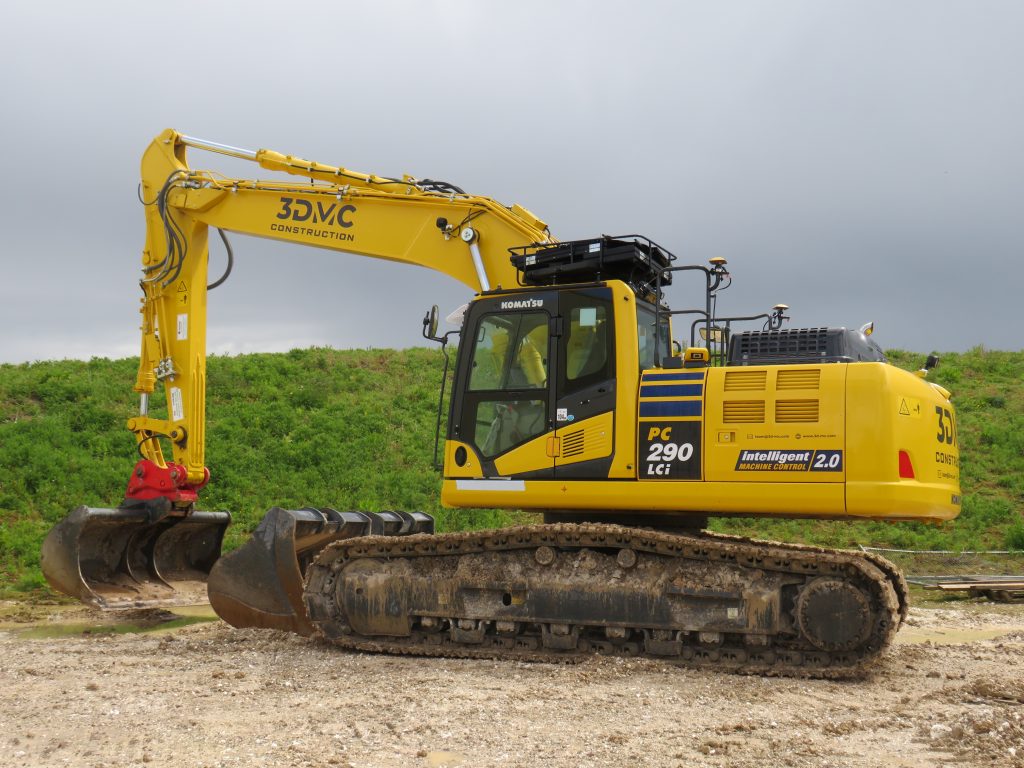 The name 3DMC Construction may be a new one in the industry but the two people behind the business have decades worth of industry experience including 12 years working with the latest machine control solutions. This has enabled them to create a company that optimises machine control technology in every aspect of the business from design and planning to application and completion.
In order to achieve the company goals, the business first invested in a Komatsu PC210LCi-11 excavator, factory integrated with Komatsu's machine control technology. They then decided it was time to purchase some more machine control equipment which led to them purchasing the UK's first PC290LCi-11 excavator in February 2021.
"Following the success of our PC210LCi-11 we decided to purchase a PC290LCi-11, opting for the bigger sized machine because it has more power and produces an output beyond the PC210LCi-11 without it feeling too much bigger. We also believe having a variety of Komatsu intelligent machine control excavators in our fleet enables us as a company to be more versatile and productive, allowing us to take on different types of projects." Says Tim Atkin, Director.
Prior to this purchase they did consider alternative products but strongly believe that Komatsu's integrated solution is more user friendly, accurate and efficient in comparison to both aftermarket kits and other manufacturers solutions.
The new Komatsu PC290LCi-11 excavator comes with intelligent Machine Control 2.0 which builds upon the success of Komatsu's iconic machine control system incorporated with new and updated features that will deliver even higher productivity, efficiency and cost savings. New features include a slimmer more compact iMC 2.0 monitor, tilt bucket integration through IMU sensors, auto tilt control function and bucket angle hold.
"iMC 2.0 is definitely an improvement on the previous version in terms of productivity and accuracy. Feedback tells us that the new screen is much more user friendly. This is important to us as we don't always have the same operator using the machine every day." says Andy Nicholson, Director.
So far 3DMC Construction has used its new PC290LCi-11 to carry out a variety of different tasks including bulk muck shifting, digging out ponds, constructing a new road and on a cutting and filling job proving the mixed capabilities of this 30 ton excavator.
Komatsu machine control excavators have enabled the business to operate stake-less sites and allows Tim to upload the files from the comfort of his own home or office and just allow the operators to crack on with what they need to do. Overall, it has made everyone's job more easy, efficient and productive!
To find out how Marubeni-Komatsu can support you, fill out the following form: