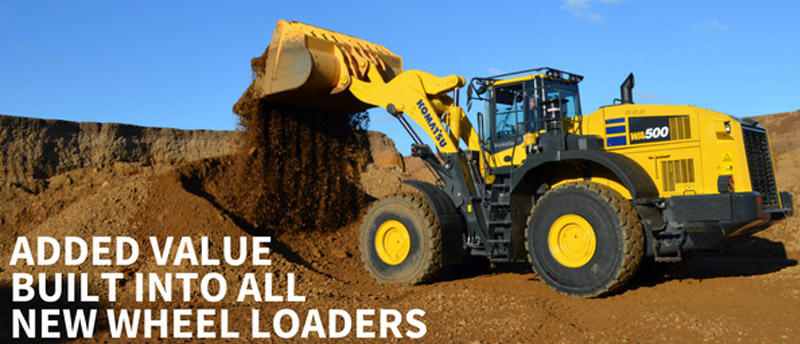 At Marubeni-Komatsu we care about our customer's investments which is why all new Komatsu wheel loaders (models 320 and above) have an automatic greasing system and electronically controlled suspension system's factory fitted for no extra charge. Both have amazing benefits to the machine and business such as higher productivity, lower maintenance costs and ultimately ensures that you achieve the maximum return on your investment.
Automatic Greasing System
Manual greasing of wheel loaders requires a lot of time and climbing on and crawling under the machine doesn't make it the most beloved job for operators and mechanics. Crucial greasing points are also easily forgotten resulting into increased repair and maintenance costs along with the machine being unused because of this.
The automatic greasing system greases pivots in small quantities over short intervals whilst the machine is operating which is much more effective than greasing the machine once a day when it's not operating. It also extends the lifetime of pins, bushings and other components resulting in reduced repair and maintenance costs. This method is also much safer as staff aren't required in the operational area of the machine.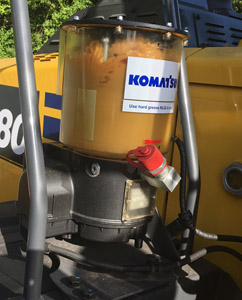 The automatic greasing system reduces daily routine maintenance time to the absolute minimum, the grease reservoir holds approximately 100 hours' worth of grease so only needs to be filled up around once a week, meaning your operator can get to work quicker each day and increases your overall productivity. This is especially important for sites with multiple operators or self-drive hire applications where this routine maintenance can get neglected.
In the cab the operator has the option to demand an additional greasing cycle with the flick of a switch, this is particularly ideal for applications where settlement tanks are cleaned (e.g. concrete batching sites)
Another bonus of automatic greasing is that your wheel loader remains in great condition after hours of work so when it is time to trade in your machine you can do so with a higher residual value.
As well as Wheel Loaders all other machines can be fitted with the automatic greasing system.
Electronically controlled suspension system (ECSS)
Komatsu's electronically controlled suspension system (ECSS) reduces vehicle bounce which is caused by uneven surfaces that are unfortunately unavoidable on many sites.
ECSS cushions the boom whilst travelling with a load in the bucket, which is done via accumulators in the boom hydraulic circuit, this reduces fore / aft bouncing and can help prolong work equipment life. This also reduces materials getting spilt from the bucket during loading and carrying work, thereby enhancing work efficiency and increasing productivity.
It also makes driving the vehicle much safer and comfortable which keeps operator fatigue to a minimum.
With the ECSS switch in the "ON" position it automatically activates when the machine travels over 5KPH. Below this speed ECSS is not active, allowing the machine to maintain maximum digging force and therefore sustaining high productivity levels. The automatic controls also saves time as the operator doesn't need to keep turning the function on and off. We recommended that is ECSS is left on during almost all operation however the only time it is suggested for ECSS to be off is when constant boom downforce is required.
ECSS is available on all wheel loaders, however it currently comes as standard on models WA320 and larger.
The above points make it very clear that both these standard features have many benefits to the machines and businesses they are a part of, saving and making you money.
Added value is built in as standard with Komatsu wheel loaders.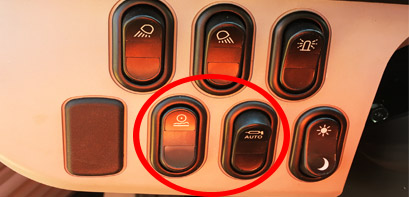 Auto greasing and ECSS switch
MORE INFORMATION
For further information explore our full range of wheel loaders, get in touch with Carl Woollaston, our wheel loader product manager, or fill out an enquiry form and a member of our team will get in touch.
SUBSCRIBE TO OUR NEWSLETTER