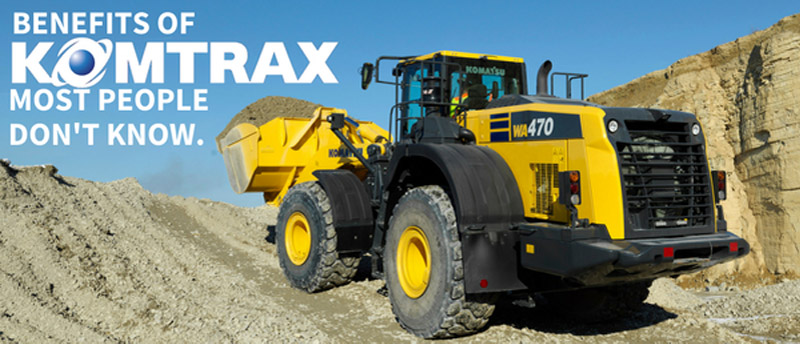 KOMTRAX™ is a machine monitoring and tracking system exclusive to Komatsu. It is fitted as standard on all new Komatsu Wheel Loaders (and other equipment types) and there are no additional costs to use it – all you need to do is fill in a form to obtain your username and login details. When it's used correctly it can significantly assist you with ensuring that your machine is making you the most money that it can.
KOMTRAX™ uses a network of global positioning satellites (GPS) & 3G mobile communications to locate your machine 24 hours a day. The map function can be used to organise a complete fleet of equipment and allows you to view all your machines at one time. The fleet map also has functions which allows you to see which machines are not working, which equipment needs attention or are travelling.
We understand that many Plant and Operations Managers oversee fleets of machines working at many sites. However, KOMTRAX™ enables you to see the location of them all so you can always know where each machine is working every day, decreasing the chances of one getting misplaced and unused. KOMTRAX™ is accessible by your computer, tablet and mobile phone enabling you to keep track of your fleet wherever you are.
Wheel Loaders tend to work in tough applications (such as recycling centres and quarries), maintenance is the key to withstand rigorous environments. KOMTRAX™ informs you of any caution messages that may appear on your machine. This can help you to maximise your machines uptime with information to enable you to plan maintenance before a problem occurs, saving you time and money.
Machines earn money when they work and idling has a huge impact on your machines efficiency. Some operators tend to leave them idling over break times or when they are waiting for the next truck to load, which results in fuel being consumed when no work is accomplished. KOMTRAX™ lets you monitor non-productive periods, so you can proactively manage idle time and control owning and operating costs. Each hour reduction of idle time reduces fuel burn, extends maintenance, and slows depreciation.
All the above points can also be used to help determine where your operators need further training if they are making little mistakes, this will help them to become more productive. They also help you to keep track of your working equipment's health, productivity but ultimately ensures that you make the maximum return on your investment.
For further information on Wheel Loaders or KOMTRAX™ you can get in touch with Carl Woollaston our Wheel Loader Product Manager, explore our range of Wheel Loaders or fill in an enquiry form using the button below and a member of our team will get in touch with you.
Sign up to our newsletter