Komatsu Wheel Loaders come with multiple features as standard to help protect them from the effects of dust and debris, extending the life of vital components and protecting costly engines from wear and tear. Downtime is minimised, and the machines can spend their time doing what they're intended for – loading and dumping and making money for their owners and operators.
The first important component which all Komatsu Wheel Loaders are equipped with is the Turbo II air pre-cleaner which removes 98% of airborne dust particles. This extends the life of standard air filters and most importantly provides additional protection to the engine.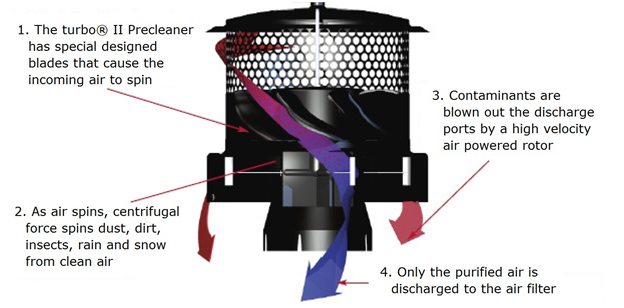 Wide core radiators allow more air borne debris to pass straight through the radiator matrix reducing the risk of blockages so maintains the machines cooling capacity.
The automatic reversing cooling fan is hydraulically driven and speeds up only when one of the machines of the machines systems demands for cooling so uses hydraulic power only when required which increases the machines fuel efficiency, productivity and ensures the machine quickly reaches working temperatures in the colder months
The automatically reversing cooling fan periodically pushes a blast of air back through the radiators which removes any dust that may have settled in the radiator matrix so maintains the efficiency of the cooling system to allow the machine to work longer between cleaning regimes meaning more productivity.
For extremely dusty environments all our wheel loaders are equipped with 2 spotlights at the front and rear of the machine and 2 halogen main headlights with optional additional lights available. These can improve the operators view and improves on site safety.
To protect the operator our cabs have a positive pressure climate control system to minimise dust ingress, in-coming fresh air is filtered and once inside the cab the recirculated air is again filtered. We offer HEPA P3 filters and specialised cab roof mounted air filtration systems with active carbon filtration for more challenging environments where odour or spores are present in the air.
MORE INFORMATION
For further information get in touch with Carl Woollaston, our wheel loader product manager, view our dedicated waste and recycling page, or fill out an enquiry form and a member of our team will get in touch.
SUBSCRIBE TO OUR NEWSLETTER