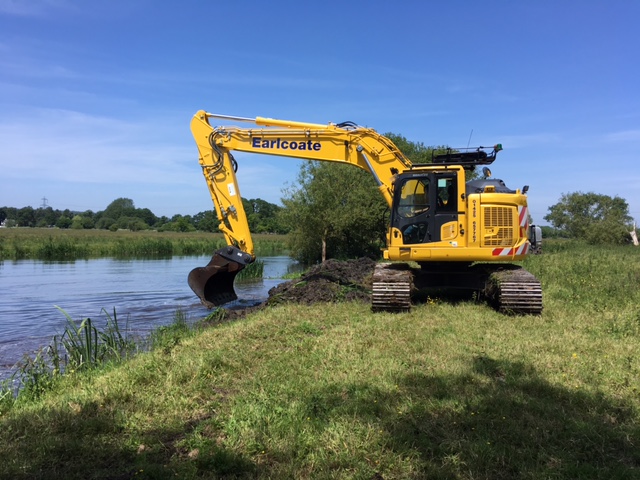 Earlcoate Construction and Plant Hire Ltd. are a family run business, founded by Alister Cutts in 1997, which has established an enviable reputation as one of the South's most notable civil engineering contractors.
They offer a broad range of services from minor works and maintenance to more substantial and challenging ventures such as coastal defence projects. One of the most unique projects they have engaged in was the restoration of the WW1 hillside badge of the Royal Warwickshire Regiment.
With a substantial investment into their people, plant and specialist equipment the company is in a strong position to offer a valuable contribution to a variety of projects.
One of their most recent investments is a Komatsu PC228USLC-11 short tail swing excavator (This particular model was launched earlier this year). Along with a PC290LC-11 and PC138US-11, Earlcoate are now the proud owner of the first PC228USLC-11 in the UK.
Compared to its predecessor this new machine is fitted with KomVision birds eye view camera system as standard, has an adjustable idle shutdown and up to 21% higher lifting capacity.
The key features which prompted Earlcoate to purchase the PC228 is its compact design which means it can fit into the same space as a conventional 13-ton machine and offer more power and capacity than the smaller excavators.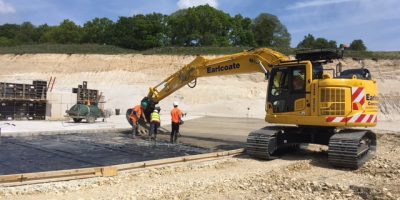 The machine has already been put to good use in civils and coastal defence contracts and there are plans for it to work on a prestigious job at Southampton Docks. The PC228's operator has stated, "The machine is very smooth, powerful and balanced and it also offers a comfortable working environment."
Earlcoate have a large plant fleet, ranging from 0.9 ton to 60 ton and already own 9 other Komatsu machines with orders for more to arrive later in the year.
They also make great use of KOMTRAX and Komatsu Care, using the fleet monitoring app to view the working hours, maintenance schedules and fuel consumption of their Komatsu fleet.