Technology, strength & versatility; partnered for your success.
2017 sees Komatsu UK celebrate 30 years since the opening of its factory in North East England. Back then we were driven by our determination to understand and respond promptly to the demands of our customers at a local level, and nothing has changed.
Innovation is at the heart of Komatsu's philosophy, especially in the demolition industry. We know that demolition requires specialist solutions, and Komatsu are leading the way in the production of machines that are efficient, safer, and kinder to the environment. Our factory original demolition products are developed specifically for the European demolition industry, providing optimal durability and maximum safety, whilst also keeping an eye on your bottom line. This was proved earlier this year when the PC390HRD-11 scooped up the prestigious National Federation of Demolition Contractors (NFDC) Award for innovation.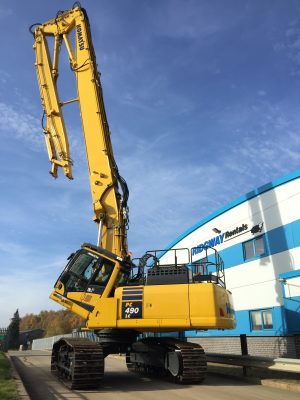 These reasons further contributed to Marubeni-Komatsu and Komatsu UK's motive to proudly sponsor the NFDC's Convention which takes place this weekend in Malta and features an innovative presentation delivered by our experts, illustrating our most recent demolition product launches which includes the Xcentric Ripper and the PC390HRD-11 excavator.
As the sole Komatsu distributor in the UK Marubeni-Komatsu can support your business with our all-inclusive service packages and a nationwide support structure offers you total confidence in your machine ownership. With over 40 years of product support experience we will maintain the level of quality and reliability you've come to expect from Komatsu, and demolition equipment is no exception.