Marubeni-Komatsu wins a Plantworx Innovation Award for the third year running
Redditch, UK: Marubeni-Komatsu Ltd are pleased to announce that the recently released Komatsu PC210LCi-11 intelligent Machine Control Crawler Excavator is a Plantworx Innovation award winner. The revolutionary machine, with integrated machine control, joins the HB215LC-1 and the PC210LCi-10 as previous award winners.
Kaz Kondo, Marubeni-Komatsu's CEO said "We are delighted to again be a Plantworx Innovation award winner and it's pleasing to see Komatsu's dedication to innovation be recognized. We're always working hard to produce products that are kinder to the environment, safer and more efficient"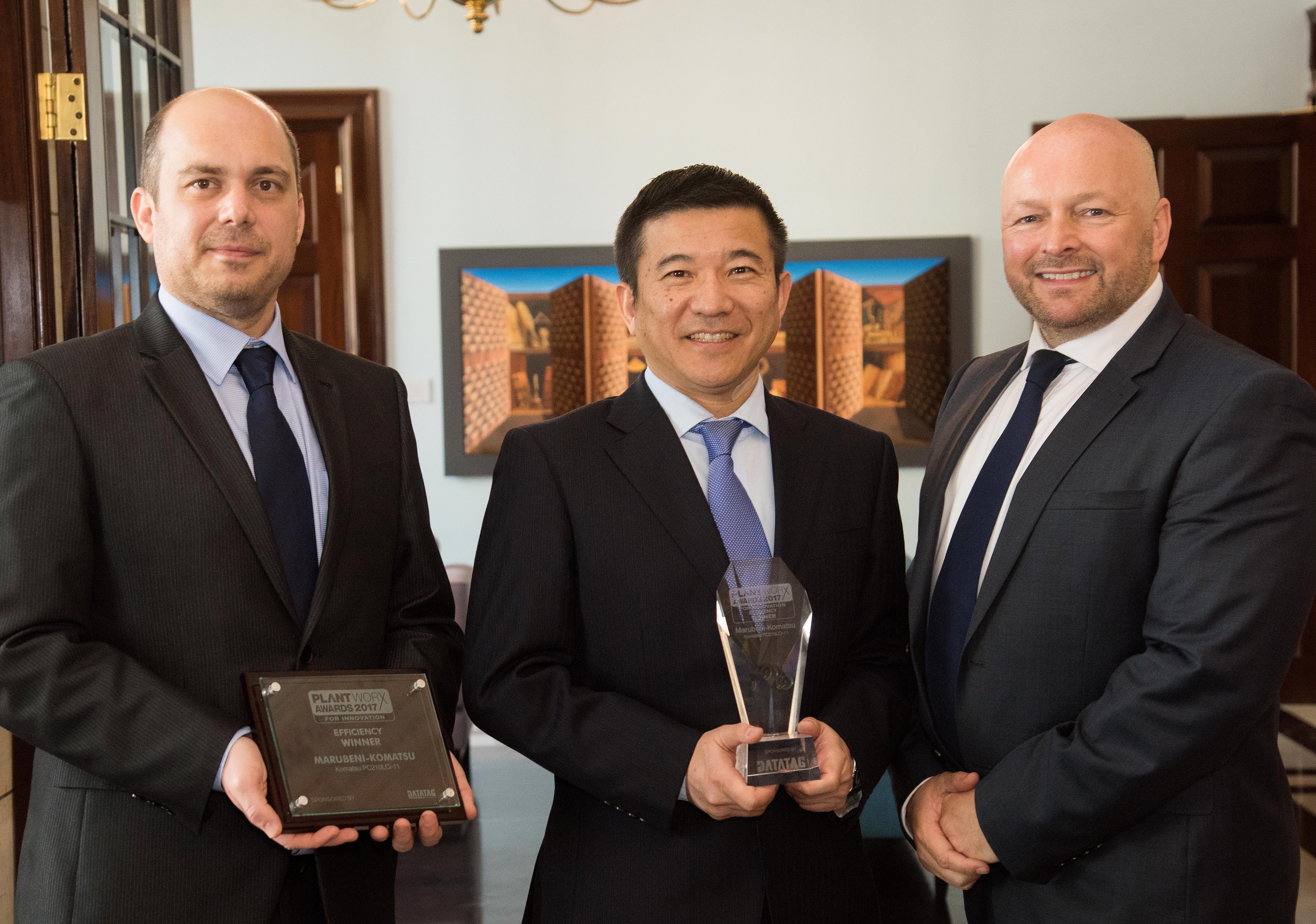 The judges felt that the PC210LCi-11 was more than just a simple upgrade of the previous award-winning model: "Komatsu has created a hydraulic excavator that comes out of the factory with intelligent machine control and the capability for semi‐automatic operation. The combination of the machine control system and a tilt bucket that is automatically limited from digging beyond the target surface should lead to significant efficiency savings on various levels." The judges were impressed and went on to say they expected the machine to be a highlight of Plantworx 2017.
The Komatsu PC210LCi‐11 Hydraulic Excavator integrates all the benefits of the standard PC210LC‐11 excavator but with the extra advantage of Komatsu's unique intelligent Machine Control technology, a now proven concept that has penetrated markets worldwide. The exclusive control function allows the operator to no longer worry about digging too deep or damaging a target surface. From rough digging to finish grading, the PC210LCi‐11 excavator can dramatically improve efficiency, precision and safety on a work site.
"The LCi‐10 excavator has already proved to be a 'game changer' in how job sites are managed, with efficiency and productivity increased and resource costs lowered", says Mal McCoy, Product Manager at Komatsu Europe. "The new PC210LCi‐11 now raises the bar even higher, thanks to improved performance and the addition of the Auto Tilt Bucket. It's the only hydraulic excavator currently on the market capable of semi‐auto operation".
SUBSCRIBE TO OUR NEWSLETTER