Rob Wilmott, has been in the industry since he left school in 1986 and with Marubeni-Komatsu since 1995. Working his way up from apprentice to area sales manager, Rob talks about the challenges he has overcome and the rewards he has received.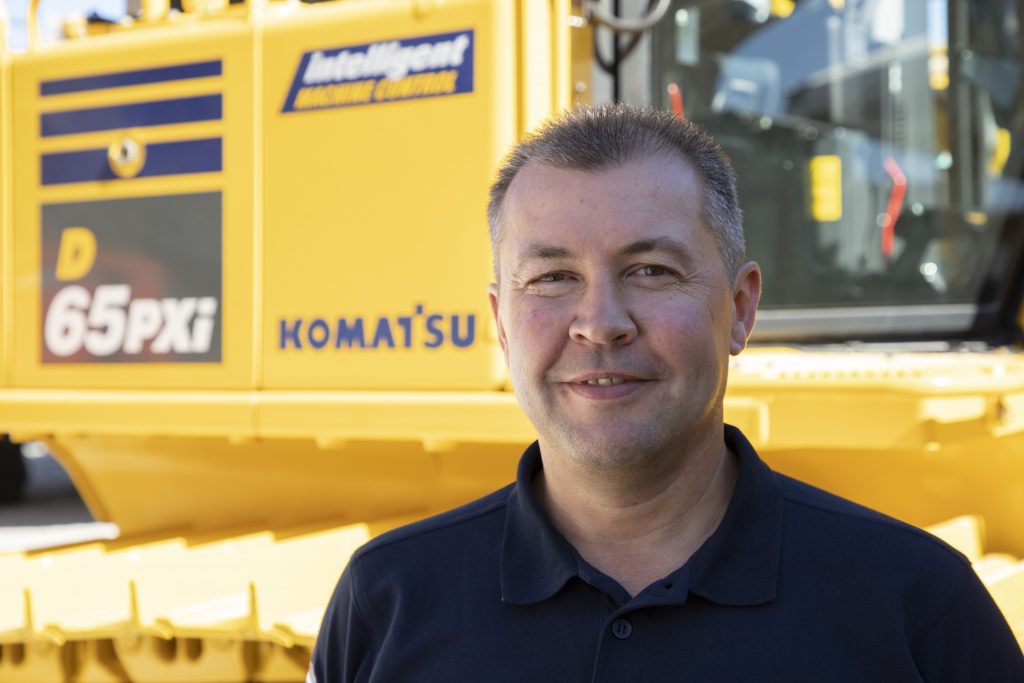 My career in the industry started in 1986 after I left school and followed my Dad's footsteps into the engineering industry by starting a 4-year engineering apprenticeship with Finning at Clay Cross.
After completing the apprenticeship, I remained at the Clay Cross branch and continued as a workshop engineer to strengthen my skills and broaden my knowledge on construction machinery.
5 years later, in January 1995, I joined Marubeni-Komatsu as a mobile field service engineer, working out
of the old Leeds depot at Geldard Road. 2½ years later I became a site-based engineer looking after Komatsu machines at Tarmac's Maltby Quarry. Here I maintained a variety of equipment including 5 rigid dump trucks and 9 large wheel loaders.
In 2004, the quarries service contract was coming to an end and one of the current salesmen was leaving and advised I took the role. I took the leap and knew if it didn't work out, I could always go back into a service role.
The company offered a variety of support to help me make the transition into sales, this included complete support from the management and external sales training. It took a while to adapt to the role and it is very different to being in service. A service role is more physically demanding whereas a sales role is more mentally demanding. Conversations with customers are very different and you work unsupervised and are responsible for planning and managing your own time.
Despite the challenges, the sales role has many rewards too. The excitement of winning an order, I still remember my first sale, a Komatsu PC130-6 crawler excavator. Even though it can be demanding the work load is only Monday to Friday and we get time off around Christmas. I also enjoy meeting new people and building relationships with them. Another aspect of the job I enjoy is that I get to travel to different parts of the country and world for meetings and events. Most importantly it can lead to more career opportunities in the future.
Because of my broad knowledge of Komatsu machines, I occasionally pass this knowledge onto new starters within the company, helping them to understand the features of each machine and how they benefit the customer.
Maurbeni-Komatsu has been a great place to work, I have always received the correct amount of support needed, and I look forward to seeing what challenges and rewards will be coming my way next.