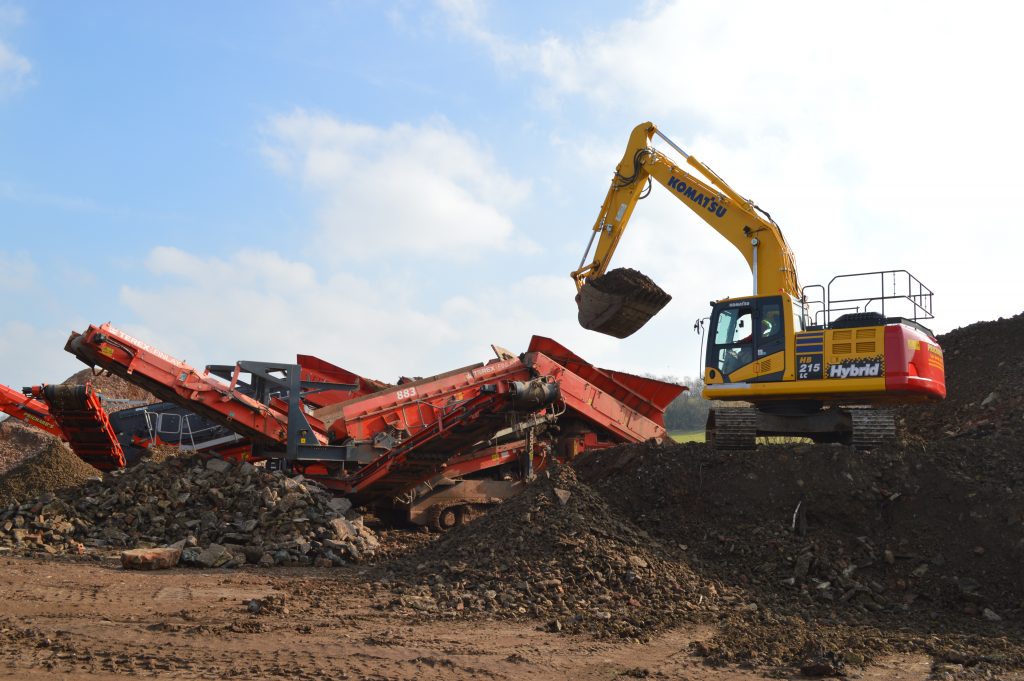 Tom Prichards Contracting Ltd. is one of the leading providers of construction and support services throughout Wales and England. The company offers many services including demolition, plant hire, transportation and recycling and waste management. They currently own a variety of Komatsu excavators and bulldozers including three HB215 hybrid excavators.
Back in 2015 the company had a dilemma. The fuel usage of the machines they were using at their recycling plants was too high and eating into their profits. Carole Nicholls, area sales manager for South Wales and Hereford, recommended they try a fuel efficient 20-ton hybrid excavator on demonstration. The loading and slewing application, with very little travel time required, is the perfect scenario for the Komatsu hybrid system to show off its fuel saving potential.

The demonstration proved successful and an order was quickly placed for a first hybrid machine to be added to Prichards fleet. The HB215 has continued to produce excellent fuel savings which has made the decision more hybrids an easy one.
"After noticing significant fuel savings with our older hybrid excavator, which was working at Project Red, we decided it would be a good idea to invest in some more for Project Yellow," commented Chris Goodfield, Contracts Manager at Prichards.
The company received their latest two machines in December and today all three of their hybrids are working at Project Yellow Ltd, which recycles around 5000 tons of aggregates a week. Here the hybrids are loading screeners and crushers with mixed materials which are collected from Prichard's construction and demolition jobs.
Despite the fuel savings benefitting the company it did take a while for the operators to agree that these are great machines. "To begin with the operators didn't like the sound of the machines, they're much quieter and rev differently to standard machines which gives the perception that they lacked power. However, after spending a few days in the cab they realised that this was not the case and now they enjoy operating them every day," Chris says.
The HB215 that is loading their screener all day, and doing very little traveling, is on average consuming just 8.8 litres of fuel per hour. A standard 20-ton excavator doing the same task will use over 13 litres per hour.
SUBSCRIBE TO OUR NEWSLETTER