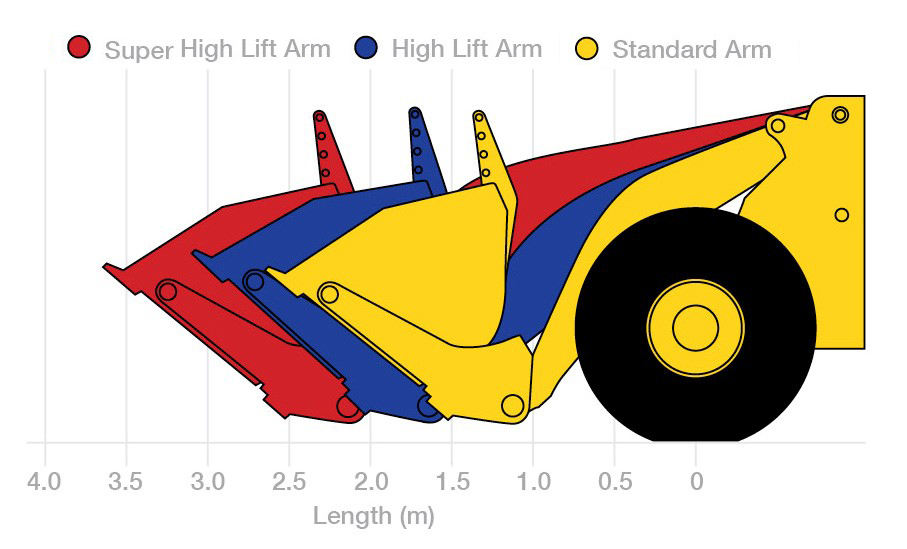 Wheel loaders form a crucial part of many companies processes and without them productivity levels would significantly decrease. So it makes sense when you are choosing a wheel loader for your business that you choose all the right components to maximise your machines performance.
One very important component to consider is the machines arm length.
There are three arm types to choose from, standard, high lift and super high lift.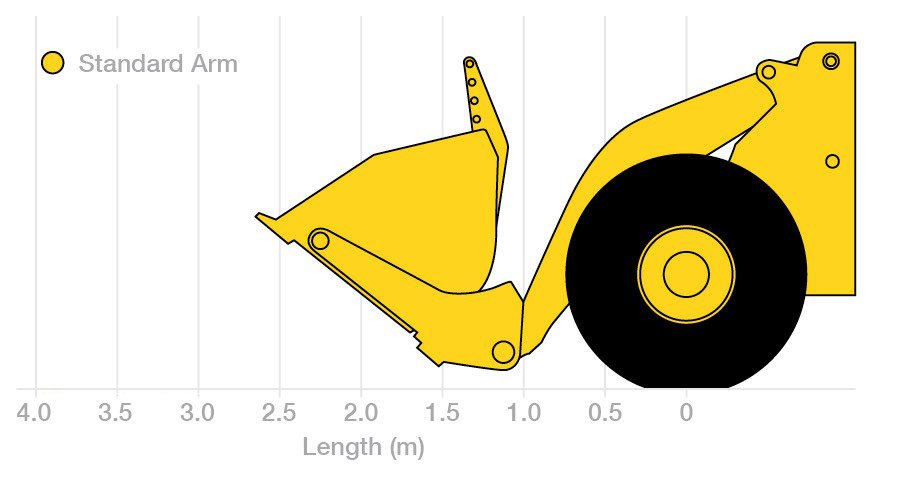 Standard arm
Standard length arms tend to be popular in quarries, skip hire businesses and recycling aggregates – in other words, anywhere where the materials tend to have a high density. This is because the centre of gravity of the bucket and load are closer to the machine maximising the machines stability and reducing the dangers of the machine tipping over.
Standard arms can manoeuvre in confined spaces more easily compared to longer arms which, this makes standard arms more suited to tighter sites.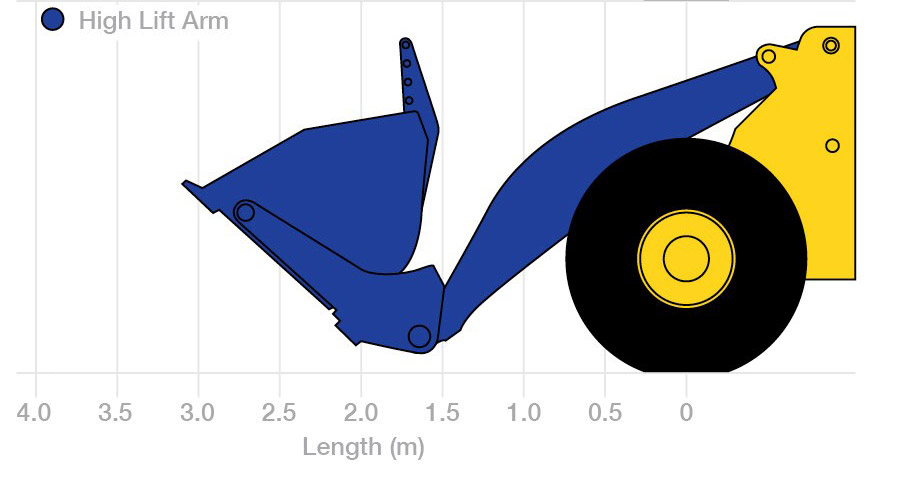 High lift arms
High lift arms are suitable where the material density is low, and transport tends to be high sided. This makes this arm type extremely popular in waste and recycling applications.
Bucket sizes for these arms bucket sizes are slightly reduced as the centre of gravity and load move further away from the machines front axle, so bucket capacities need to be carefully matched to material densities to ensure machine stability in operation.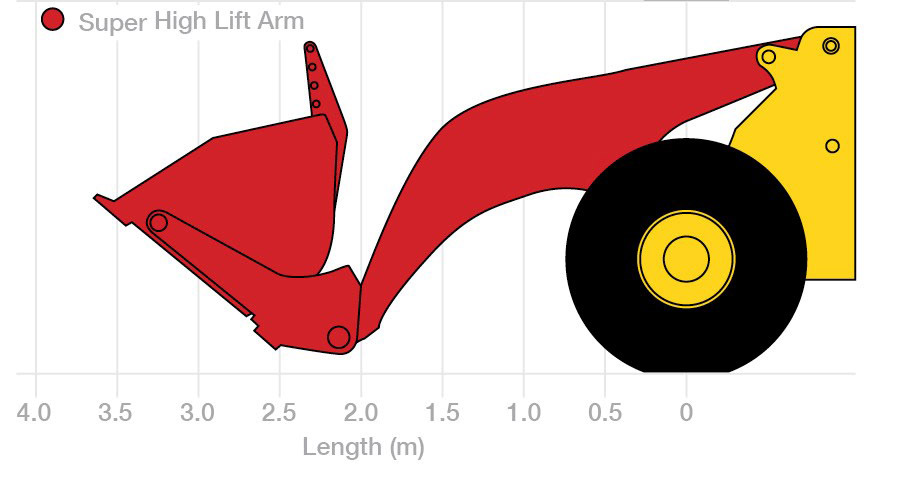 Super high lift arms
Super high lift arms are also used where the material density is low and transport tends to be high sided.
Full arm extension can exceed 6m when paired with a high tip bucket.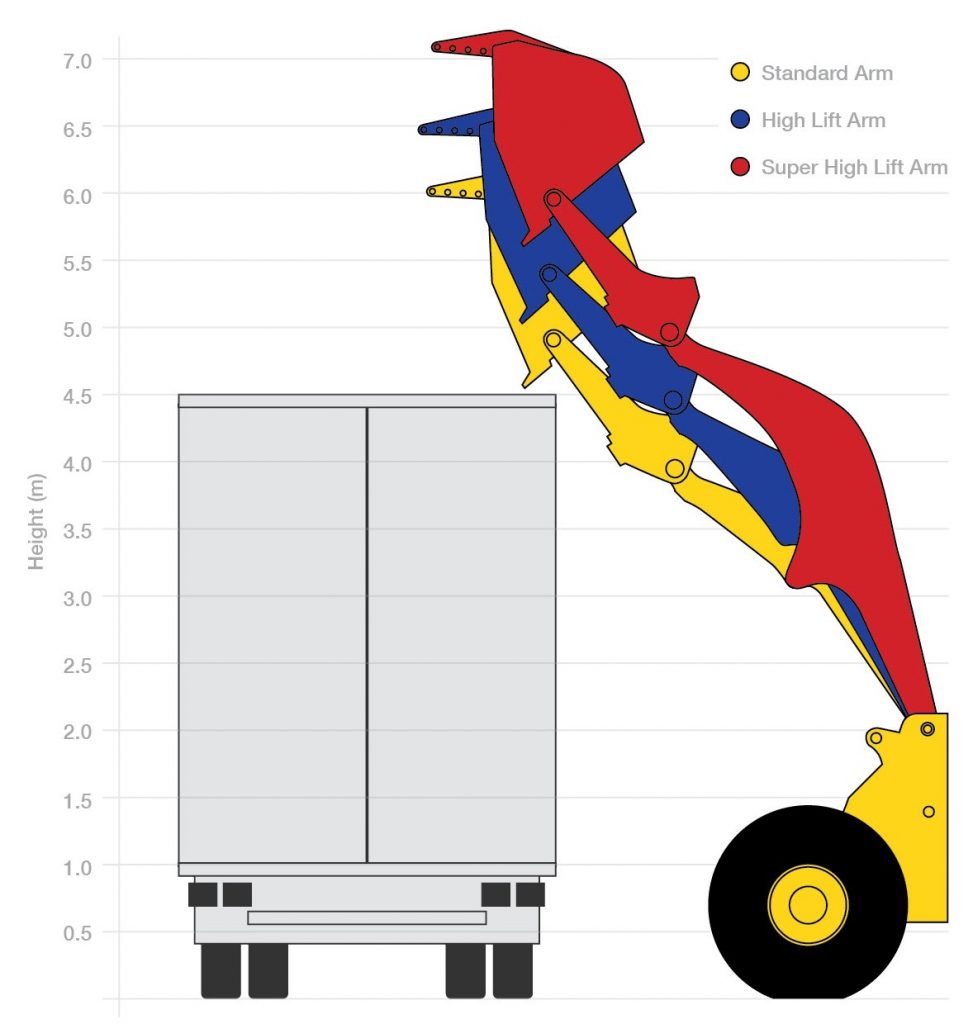 When paired with the high tip bucket standard arms can just about reach into high sided lorries – without this bucket they wouldn't be able to do so. The illustration above shows a machine loading a 4.5m high sided bulker trailer.
The high lift arm paired with a high tip bucket makes loading high sided bulkers and walking floor trailers easy and allows a certain amount of material tamping* inside of the trailer.
With the super high lift arms and high tip bucket the arm to bucket pin height is way above the trailer height. This allows a high degree of material tamping to be done inside the truck.
*Tamping is the flattening down of materials which frees up space and allowing more to be added into the trailer, increases the maximum payload and reduces transportation costs – making businesses for efficient.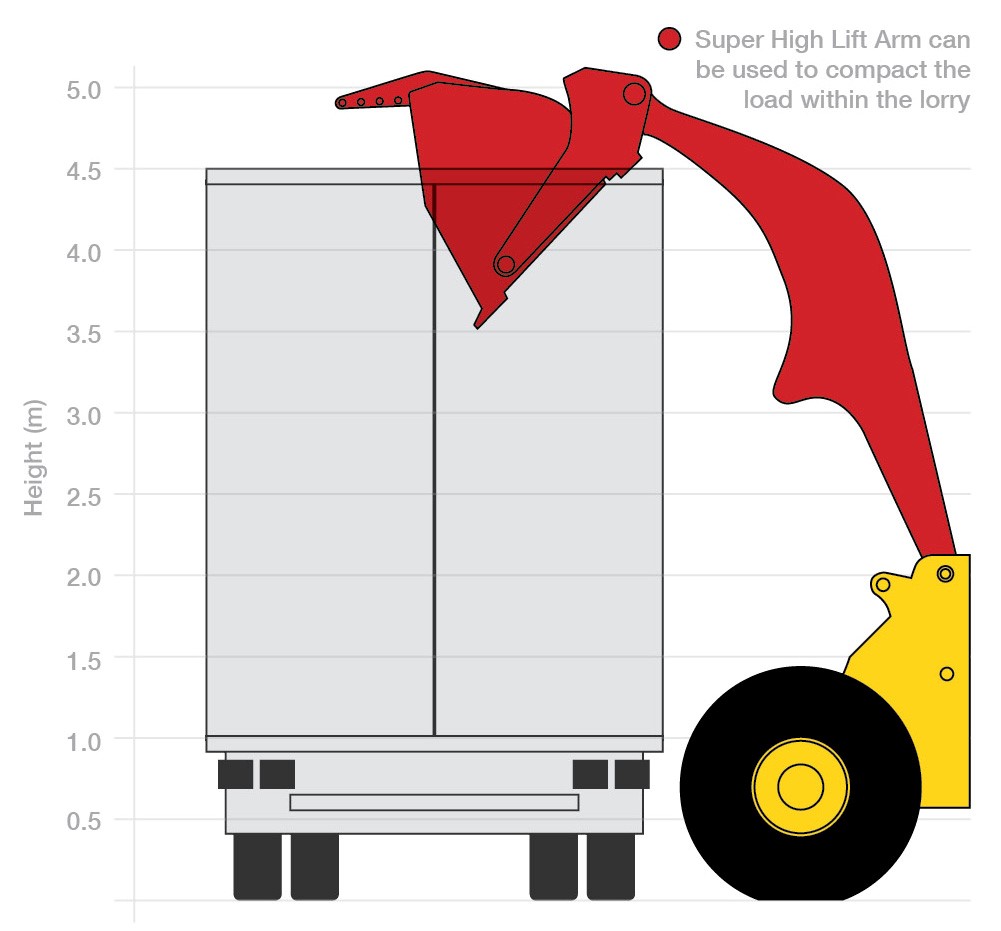 MORE INFORMATION
For further information get in touch with Carl Woollaston, our wheel loader product manager, view our dedicated waste and recycling page, explore our other wheel loader articles or fill out an enquiry form and a member of our team will get in touch.
SUBSCRIBE TO OUR NEWSLETTER