W&S recycling is a well respected and long established recycling company with operations serving all market sectors and ranging from individual sites to regional and UK-wide recycling contracts.
Founded in 1988 by Geoff Thompson, after being awarded his first contract by Dorset County Council, the business retains its head office in Poole, Dorset but now casts its net much further afield.
Recently, under Geoff's guidance, W&S recycling has also been embarking on demolition projects around the UK, and one such project is the huge site of the former Aylesford Newsprint premises in Kent.
A mammoth undertaking
Tony Doyle, Project Manager for the Aylesford Newsprint Demolition project picks up the story. "At 106 acres, this site is a big undertaking for us and not something to be taken lightly. There are 3 main buildings: PM14 – that housed the main print machine, PM13 – which housed the old print machine, and the FPP Plant which recycled old newsprint."
"In terms of the tonnage of concrete on the site, it's a complete unknown" continued Tony. "None of the site was documented until the construction of PM14, so everything prior to that is a
complete unknown in terms of plans and documentation. There are pits, wells and dozens of outbuildings all over the site – and they've all got to go."
The job W&S Recycling have undertaken, is to reduce everything on the site down to a level slab, ready for future development. W&S have been on site since September 2016, pulling out easily accessed recyclables and assessing the site to establish the equipment required to complete the demolition job.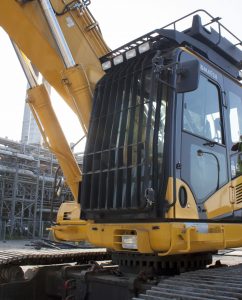 Cab guard & dust suppression
W&S recycling high spec demolition unit
As a result of meeting with Marubeni-Komatsu salesman Mike Darch, Komatsu engineer Simon Saunders was drafted in. By overlaying scale drawings of various machines with plans of the largest buildings, he was able to identify that the Komatsu PC490HRD-10 would be suitable for the job. The machine was duly specified with the optional hydraulic adjustable undercarriage, three boom configurations (standard dig boom, medium reach 17.5M boom and high reach demolition 28M boom) as well as a host of extras including dust suppression and cameras for maximum versatility. See notes below / sidebar for full spec.
Specification proves its worth
In Jan 2017 the PC490HRD-10 was delivered although due to red tape and planning issues, it wasn't able to be put to work until the summer. Since commencing demolition, it's been rigged with the short boom and 5 tonne shears to take down all the low-level buildings. "The plan is to get rid of all the smaller structures first. That'll provide more working room to get the machines in to pull down the larger buildings later in the project. The 5T shear that's been fitted so far has been great and hasn't come up against anything it can't handle" explained Tony.
When asked about any of the specific features of the PC490 which stand out, Tony is quick to answer. "The hydraulic undercarriage on that machine is amazing. It gives the machine so much more stability when it's operating on a solid concrete base than you'd ever get with a normal undercarriage." Machine operator Derren Monk agrees, "The stability is great. You never have it rocking back and forth – it's just rock solid. Considering the size of the attachment we're using and the work I'm putting it through, it's impressive stuff. It proves it was the right decision to spec that undercarriage. And although it's a much smaller feature, the reverse fan is great and saves all the aggro of cleaning out the radiators manually."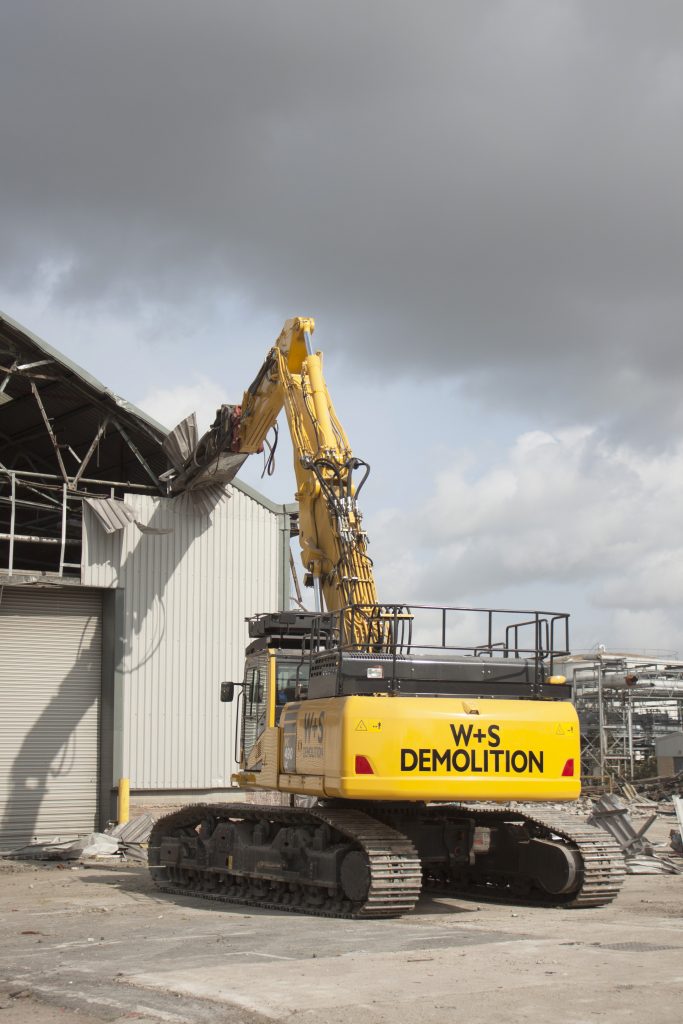 Phenomenal work rate
As an experienced operator who's worked all over Europe and on much larger machines, we were interested to hear Derren's thoughts on the machine's operation. "It's smooth – really smooth actually and it copes with the weight of the 5 Tonne shear no problem, even cross track. The cab's very comfortable, it's got the new Tool Control system in it which lets you change your equipment at the press of a button – that's very good."
In terms of productivity and return on investment, Tony is equally enthusiastic, "It's the best piece of kit we've got in this site. We're using it on RSJ's, pipework, concrete floors, concrete beams – we'll probably be using it for hammer work later too. The rate it can get through sections of demolition is phenomenal – the other machines are essentially here to support that one. Our operator's over the moon with the machine too and that speaks volumes. You can't get him out of it and if anyone else goes near that machine, there's an issue. Derren's quite particular about his machines."
Service to support the machine
With machines like this PC490HRD clocking up around 2000 hours a year, W&S recycling usually review the condition after 3 years with a view to trading in at around 4 years old. The reasoning being that on demolition projects, where it's all about how quickly the job can be completed, you just can't afford down-time. By trading in between 3 and 4 years, most major mechanical issues can be avoided.
Marubeni-Komatsu are providing a full-service contract on the machine for the first 3 years, meaning their expert engineers will carry out all scheduled maintenance and are always on site quickly should there be an issue. W&S intend to continue that relationship beyond 3 years until the machine is traded in.
Tony's expectation regarding the PC490HRD's use, is that it'll be fully utilised on the Aylesford Newsprint site for at least the next 12 months, before moving on to the next site. That's fairly typical in terms of the demolition projects W&S recycling undertake, with two further projects in the pipeline, one just down the road from the current site and another in the North East that's  around 3 times bigger. "We've been really impressed with the performance of the Komatsu machine and the support from the team at Marubeni. When the time arises, I can see us getting another Komatsu PC490 with that hydraulic undercarriage no problem." Concluded Tony.
Machine Spec:
• Komatsu PC490HRD-10 with hydraulic variable/adjustable undercarriage
• HRD equipment 28M boom, medium reach 17.5M boom, standard dig boom/arm
• Quick hitch & HD bucket,
• Dust suppression system fully integrated into machine
• Drain line and work equipment stand
• Camera on high reach arm, rear & side view cameras, working range indicator
• Boxing ring, vandal guards, tool control and sign writing
• 3 year / 3000hr full warranty
Machine Features & Benefits:
• Offers full working range in all three configurations and capable of using a 5000kg tool at 17M or a 3250kg tool at 28M, this represents best in class performance.
• Weighing an extra 5000kg, the hydraulic undercarriage provides greater stability whilst being capable of reducing in width by 1000mm for ease of transport.
• Annex G compliant straight from the factory, ensuring the machine complies fully with all EU regulations and safety requirements.
• Work equipment stand designed by Komatsu for ease of changing boom configurations.
• Working range indicator for operator safety of working position and machine stability.
If you'd like to find out how we can help your business call our team of specialists on 01527 512512 or fill out an enquiry form.
SUBSCRIBE TO OUR NEWSLETTER