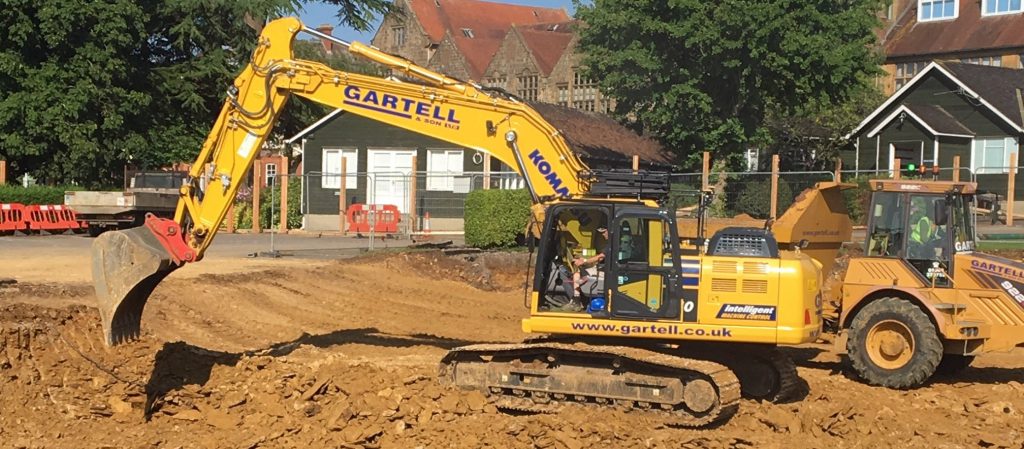 Gartell & Sons Ltd. are a long-established construction contractor, with an excellent reputation for providing groundworks, land drainage and landscaping services throughout Somerset, Dorset, Hampshire, Wiltshire and Devon.
Before 2016, when they purchased their PC210LCi, the company had been relying on after-market 3D machine guidance systems for over 10 years on their bulldozers and had started to use similar products for excavators.
To the company it seemed only logical that they try the Komatsu factory integrated machine control solution. However, with this system still being relatively new to the market they were rather dubious as to whether it was the right move for them.
At Marubeni-Komatsu we understand that customers may be curious about how our technology machines work and operate. Which is why we are very flexible with allowing our machines out on demonstration. Gartell and Sons Ltd. agreed to have the PC210LCi on demonstration and were pleasantly surprised with the performance of the factory integrated solution.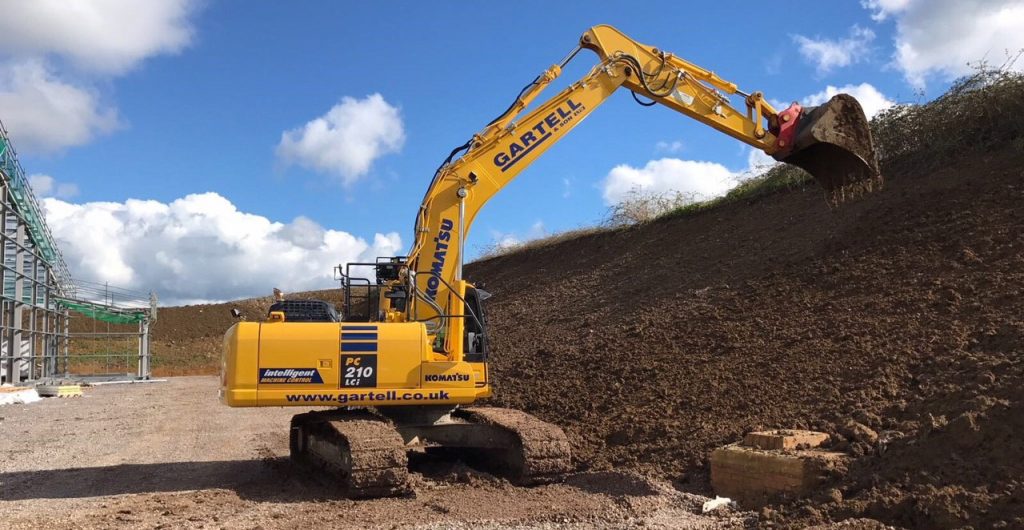 Andrew Gartell, Director of the company says, "The initial benefits were apparent with the time saving as there was no daily rigmarole of setting up the lasers and depth receivers on the excavator and relying on our engineer to visit each site to set out prior to works being able to commence. With the LCi system we can get to site, carry out machine pre-checks on arrival, set up the base station and start work quickly."
They now use the PC210LCi for all aspects of general groundworks from bulk excavation to drainage and trimming.
"Another advantage of the intelligent machine control system is safety. No operatives or groundworkers are walking or working in close proximity to the excavator as the surveying and setting out can be carried out from the safety of the office and cab," says Andrew.
A great example of improved site safety is apparent on one of their recent jobs where they used the excavator to help complete the installation of three 60,000 litre tanks. The PC210LCi excavated the holes and placed the concrete bedding ready for the tanks without the need of any groundworkers near the 4m deep excavation – improving and enhancing site safety.
Gartell & Sons Ltd. are now operating "stake-less" sites and follow the project through from the excavations, to foundations, drainage and the final stone layer – all controlled completely by the machine.
ENQUIRY FORM:
SUBSCRIBE TO OUR NEWSLETTER