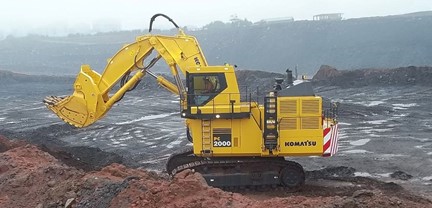 In 2021, Marubeni-Komatsu undertook the momentous task of overhauling the biggest excavator in Scotland, the substantial PC2000-8 weighing in at an impressive 200-tonne.
At 7 years old, Tarmac Dunbar recognised the need for a major refit which would extend the PC2000's lifetime for at least another 5 years.  Playing a significant role in supplying the cement manufacturing process with essential limestone, the PC2000 handles the blasted rock from Tarmac's quarry and moves it to the dump trucks for delivery to the crushing process.
Recognising the experience & expertise of Marubeni-Komatsu as the OEM, Tarmac Dunbar were comfortable relying on Marubeni-Komatsu to rebuild all major components with genuine parts including an overhaul of the 11-tonne bucket, pins & bushes etc.  The entire process needed to be conducted at a nearby location to the quarry, due to the difficulty in transporting a machine of that size, where a team of Komatsu fitters and engineers could complete the job uninterrupted, completing the project in only 7 weeks. This was within the customer's budget and ahead of schedule. 
Kevin Henderson, Marubeni-Komatsu's lead field technician commented 'As well as many operational parts of the excavator being upgraded, we also worked on the driver's comfort and safety.  Work in this area included replacement of the air-suspended operator's seat. There is even a lunch box that is linked into the climate control system that keeps the driver's lunch warm or cold'.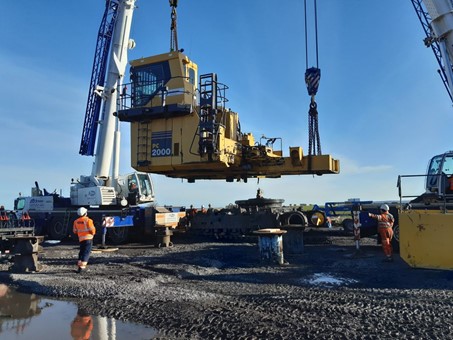 The entire process and scale of the operation was captured by a timelapse video:
The benefits of a Komatsu Machine Rebuild:
Reduction of capital spend over same period
Meet operational targets without replacing machines
Extend machine lifespan
Improve machine reliability and up-time
Cost savings of up to 40% by using Remanufactured replacement parts over brand-new
The Rebuild Process:
Machine inspection and Rebuild scoping session
Rebuild plan and specifications agreed with customer
Disassembly, and cause of failure review
Components checked, tested repainted and fitted
Product improvement, re-assembly and pre-start tests
Final test and any final adjustments are completed.
Full details on machine rebuilds can be found on this page – click here.