A full or powerline rebuild is a complex, multifaceted process but it's an option that can
act as a cost-effective alternative to replacing your machine. Marubeni Komatsu is
committed to providing a properly managed rebuild plan that meets our customer's
goals of improving productivity, machine performance & longevity and lowering the
cost of ownership.
KEY BENEFITS OF A MACHINE REBUILD
Meets operational targets without replacing machines
Improve machine reliability and up-time
Reduces a customer's capital spend
The Rebuild starts with a planned consultation with your local PSSR to discuss the severity
of the rebuild, to discuss budgets, time frames and goals to ensure pre-preparation plans
are conducted seamlessly. Marubeni Komatsu's aim is to finish the project within budget
and ahead of schedule to not keep the machine out of work too long.
THE REBUILD PROCESS
Machine Inspection and rebuild scoping session
Agree rebuild plan and specifications
Begin disassembly and cause of failure review
Components checked, tested and re-painted
Product improvement, reassembly, and pre-start tests
Final test
To keep costs down to benefit the customer, Marubeni Komatsu will endeavour to use
remanufactured components when replacing parts during the rebuild.  Using remanufactured
components reduces operating costs without jeopardising quality while offering up to a 40%
discount when compared to brand new.
BENEFITS OF REMANUFACTURED COMPONENTS
Reduce operating costs while not jeopardising quality
Offer a significant cost saving when compared to brand new – up to 40%
12-month warranty for additional peace of mind
Help the environment (parts are recycled, rather than scrapped)
BENEFITS OF KOMATSU MACHINE REBUILDS
Reduce capital spend over the same period
Meet operational targets without replacing machines
Improve machine reliability and up-time
THE REBUILD PROCESS
Machine inspection and rebuild scoping session
Rebuild plan and specification agreed
Disassembly and cause of failure review
Components checked, tested and re-painted
Product improvement, reassembly and pre-start tests
Final test and commission
REMANUFACTURED COMPONENTS
Reduce operating costs and maintain quality
Cost savings (up to 40% less than new parts)
Long Service Life (genuine parts used with long warranty)
Eco-friendly (parts are salvaged where possible)
REBUILD OPTIONS:
Option 1: Powerline Rebuild –
Parts replaced (depending on machine) – Engine, Transmission, Axle, Final Drives, Travel Motor, Pumps and much more…
Option 2: Full Rebuild –
As per powerline but also including wiring looms, shot blasting, pins & bushes, hoses, swing machinery and much more…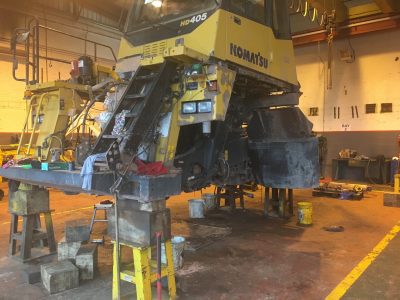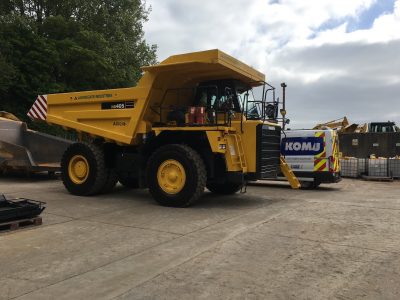 SUBSCRIBE TO OUR NEWSLETTER