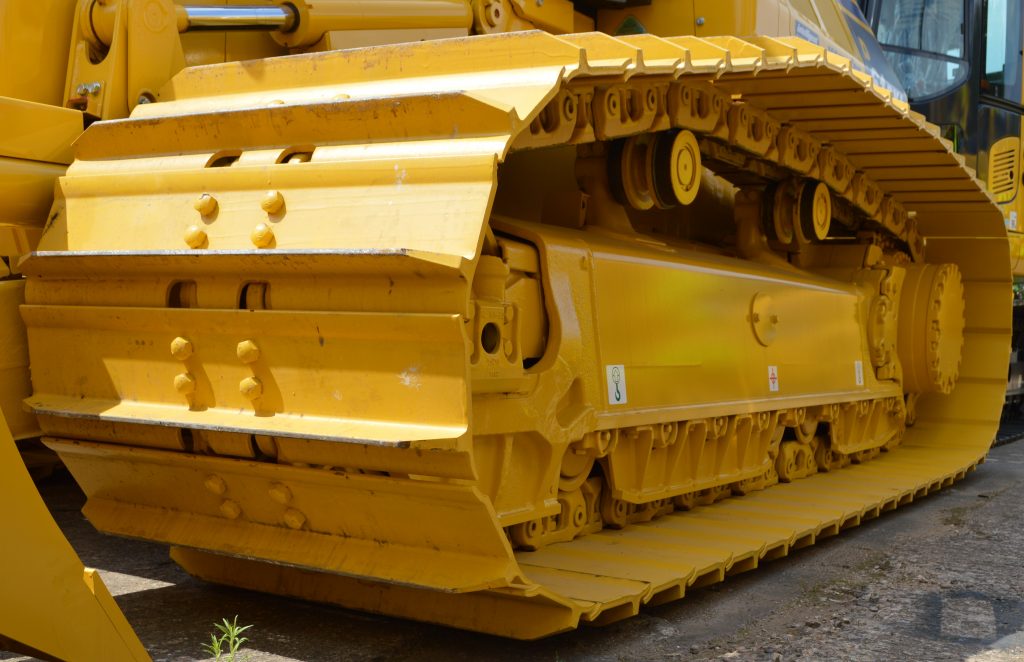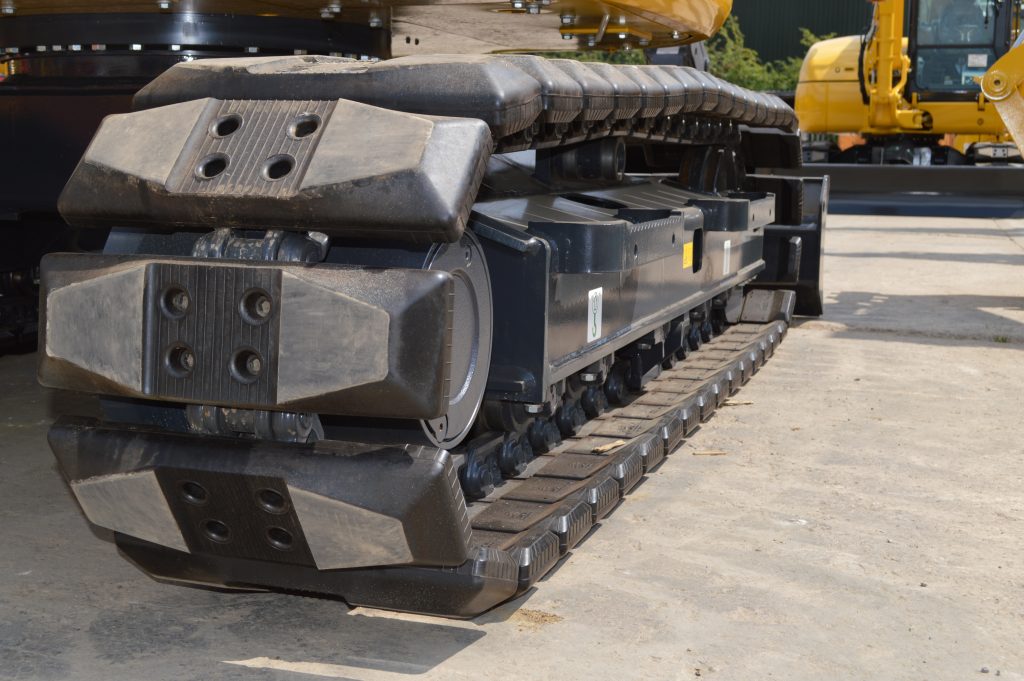 Roadliner pads
Roadliner pads are standard with a great many utility excavators, and some tracked dumpers.  This option requires no steel shoe and bolts directly onto the core chain with 4 centrally placed bolts.  Made from a premium rubber compound, Komatsu roadliner pads are extremely durable and resistant to catastrophic failure.
Benefits
No steel shoe required
Easily replace damaged pads
Low noise level
Reduced vibration level
Minimal damage to work area
More stability on slippery surfaces
Marubeni-Komatsu is currently offering sizeable discounts on roadliner pads on the following machines: PC26MR-3, PC30MR-5, PC35MR-5, PC45MR-5. PC55MR-5, PC80MR-5
Rubber tracks
Like a protective rubber band around a machine's chain, Marubeni-Komatsu's rubber tracks offer complete protection while providing a safe, easy and reliable option for utility excavators, skid steers and carriers of all makes and models under 12-tonne.  Reinforced with a strong inner core for increased strength.
Benefits
Reduced de-tracking for less machine downtime
Minimized vibration level
Less mud-packing for better improved traction
Resistance to carcass punctures and cable corrosion
Available in standard and heavy-duty options
Roadliner Pads vs Rubber Tracks – what do I choose?
Is your machine under 5 tonne?
Then rubber tracks is probably the best option.
Is your machine over 5 tonne?
Roadliner pads should be seriously considered.
Is the short term cost an issue?
Pads are costlier upfront but will last significantly longer than tracks so pads will offer the longer-term saving.
What kind of work is the machine doing?
If its tough terrain such as demolition or groundwork, then having machines on rubber pads allows you to remove the pads for these applications and switch back when that job is finished.
How long do you intend to keep the machine?
If you expect to change your machine within 2 years, then rubber tracks offer the best value.  If you intend to keep the machine longer than 2 years then roadliner pads may provide a better value-for-money option.
Standard undercarriage
Engineered for maximum productivity, our components deliver reliability and performance for the demanding conditions and challenges of construction, quarrying and other industries thanks to the features unique to Marubeni-Komatsu Undercarriage.  Our components can provide important cost savings to your machine operation.
Components available:
Track Link Assemblies – consisting of links, pins, bushings and unique 'w' seals.
Track Shoes
Track & Carrier Rollers
Idlers
Sprockets
Undercarriage PLUS (parallel link undercarriage system)
Exclusive to Komatsu Dozers, this Undercarriage option can offer up to twice the life versus standard Undercarriage.  It is a unique Komatsu design that features a rotating bushing to minimise wear between segment and bushing.  Suitable for small and medium sized Dozers.
Other features:
Bushing rotates around the pin
Unique Komatsu seals
Recessed sprocket segments
Higher flanges on track rollers
Innovative crocodile links to assist splitting the tracks for removal
Sign up to our newsletter for all new machines releases, parts offers and more: