Based in Nottingham but offering their ground re-engineering techniques all over the UK, Dynamic Ground Solutions (DGS) were the first in the country to purchase a PC210LCi and now their whole fleet of Komatsu equipment is factory integrated with intelligent machine control technology.
Before purchasing their first intelligent machine, DGS used to rely on staking out the reference points and the use of standard machines. But after a job was held back a week because of a mistake using this method they knew that they had to consider different techniques.
Fortunately for them whilst they were exploring their options the PC210LCi-10 was released in the UK and site manager, Mick Jackson, believed that DGS would benefit from this machine and technology. This resulted in the company being the first in the country to purchase the excavator back in October 2014.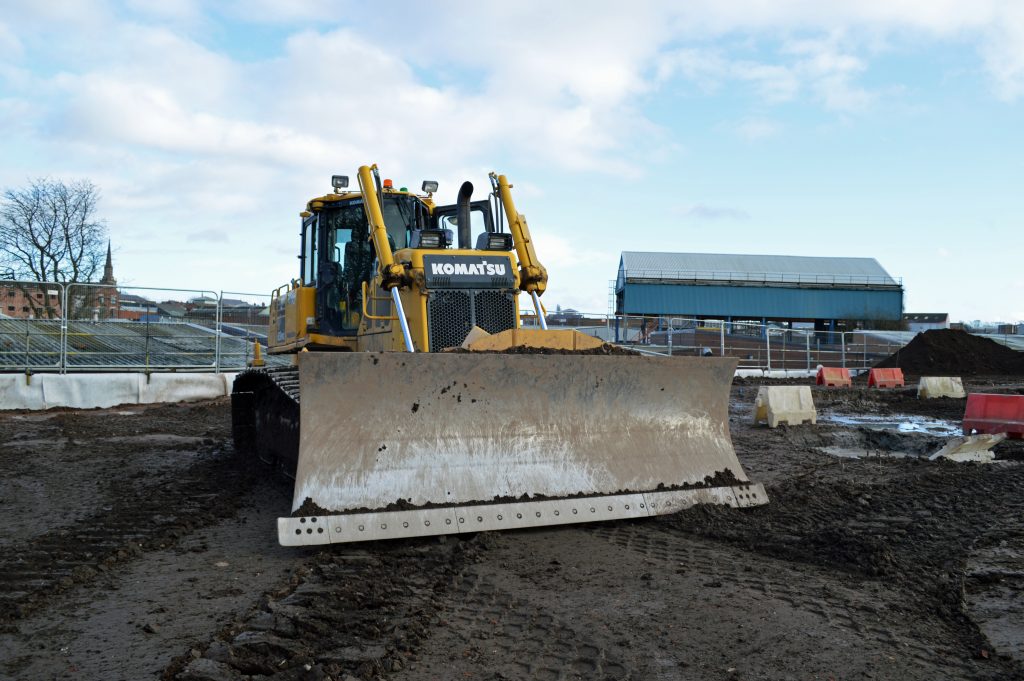 Nearly four years later their full fleet of Komatsu machines is integrated with intelligent machine control technology, consisting of three PC210LCi's, three D65PXi's and a D61PXi.
Mick Jackson says "Despite the upfront cost for these machines being higher than alternative methods the cost difference has paid for itself. All of our processes are sped up and we have improved accuracy which increases our overall productivity." The main way the machines have improved the productivity of the business is by completely eliminating the process of having to stake out reference points. This not only improves productivity but also the safety of employees as no one needs to stand around the machine to assist the operator.
Micks job role has also benefited from these machines as he hasn't got to worry about the individual tasks on one site, he can now let all the operators get on with their jobs leaving him more time to oversee the multiple jobs and sites he is in charge of around the country.
One of the current sites that they are working on is situated in Wolverhampton where they are building the foundations of a new Jaguar Landrover show room and service centre. Here they are relying 100% on machine control technology to dig the foundations.
One of the Komatsu machines they have on this site is the D65PXi which is mainly being used for ground stabilisation – cutting the ground to the correct height and then levelling it out. The operator, Phil Leech, who also has experience driving standard bulldozers loves Komatsu's intelligent machine control technology. The key benefits which stand out for Phil in particular is that with this machine he can arrive on site and get straight to work. Also, throughout the day he hasn't got to wait around for colleagues to mark out any additional reference points.
Mick Jackson also added, "There are also additional health and safety benefits with the dozer as it means none of my colleagues have to climb on the dozer blade each morning and night like they would have to with the after-market solution."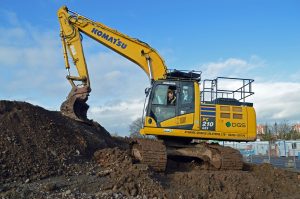 On the same site they have the very first PC210LCi-10 which is using its machine control technology to dig the foundations of a wall and other complex designs which are part of the show room and service centres foundations. The machine is now just over 3 years old and has an impressive 6200 + hours on the clock along with a few scratches to the paint work – yet it is still working like it did on day one.
DGS have also taken advantage of Marubeni-Komatsu's other services by purchasing a 5 year service contract where a field service engineer from Komatsu will service the machine after every 500 hours or at the end of each year (whichever comes first) and an extended warranty for all of their machines to give them complete peace of mind if anything was to go wrong with them.
They also regularly use some features on KOMTRAX – Komatsu's machine monitoring and tracking system. When a machine is expected to operate in a set location DGS create operation areas (Geofences) so if the machine moves out of the location they receive an email notification. They have also set up alerts for when a machine is due a service.
SUBSCRIBE TO OUR NEWSLETTER