We're showcasing a range of our machines at Plantworx!
Redditch, UK: Marubeni-Komatsu is pleased to announce that it is once again exhibiting at Plantworx 2017. The biennial event, held at Bruntingthorpe Aerodrome, Leicester gives the Komatsu brand an opportunity to display its broad range of ground breaking machinery. The event is the UK's dedicated working construction exhibition and will commence on 6-8th June, with close to 15,000 visitors expected.
Once again, we've got an eclectic mixture of static display and demonstration machines on stand K7 and K8:
Highlights this year include the updated PC210LCi-11 with intelligent Machine Control. This revolutionary machine is a recent award winner, scooping the Plantworx Innovation award. The Komatsu PC210LCi-11 Hydraulic Excavator features Komatsu's revolutionary machine control and guidance system, fully factory integrated with the other qualities and benefits of the standard Komatsu PC210LC-11 excavator. Intelligent Machine Control is the exclusive control function which lets you focus on moving material efficiently, with no worry about digging too deep or damaging the target surface.
"The LCi‐10 excavator has already proved to be a 'game changer' in how job sites are managed, with efficiency and productivity increased and resource costs lowered", says Mal McCoy, Product Manager at Komatsu Europe. "The new PC210LCi‐11 now raises the bar even higher, thanks to improved performance and the addition of the Auto Tilt Bucket. It's the only hydraulic excavator currently on the market capable of semi‐auto operation".
Since 2008, when Komatsu commercialized the first Hybrid construction equipment in the history of the industry, a total of 10,000,000 hours of operation have been registered by excavators benefiting from Komatsu's proven hybrid technology, which is today at work on over 3,500 units worldwide. The new HB365LC-3 hybrid excavator features an EU Stage IV engine and ultra-low noise levels, and it further reinforces Komatsu's strong commitment towards a substantial reduction of the environmental impact of earthmoving machines. Compared to a standard PC360LC-11 excavator, the new Komatsu Hybrid excavator is designed to provide 20% fuel savings to customers. KOMTRAX™ data from HB365LC-3 machines working in Japan since February 2016 show that Komatsu has reached this target.
Visit the us on stand K7-8 and join us for refreshments at our Barista coffee bar from Café Azzurro. We'll be firing up the BBQ again so make sure you manage to try one of the now renowned Johnny Pusztai burgers! We've got some excellent goodies to give away this year too; get your badge scanned to pick up your giveaway bag. Inside the stand, we will also have our shop, which will be selling some exciting Komatsu branded clothing and items and of course our range of collectable Komatsu scale models.
Keep an eye on our Twitter feed for news about competitions – we'll have some exciting prizes up for grabs again!
See you there!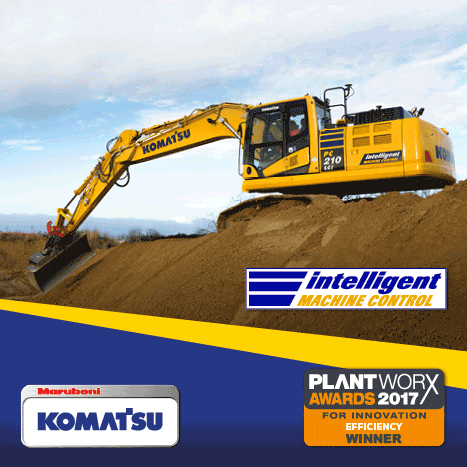 SUBSCRIBE TO OUR NEWSLETTER